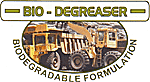 Enviro Gold Bio-Degreaser is industrial grade environmentally friendly; a great alternative to harsh chemicals. It removes heavy deposits of grease, oil, dirt and grime from machinery, engines, concrete floors and most badly soiled substrates.
A proven alternative to solvent based degreasers as it is environmentally friendly and specifically designed for use in Industrial and Mining applications.
Quick break
Concentrated
biodegradable
solvent-free
phosphate-free
water-based degreaser.
Common applications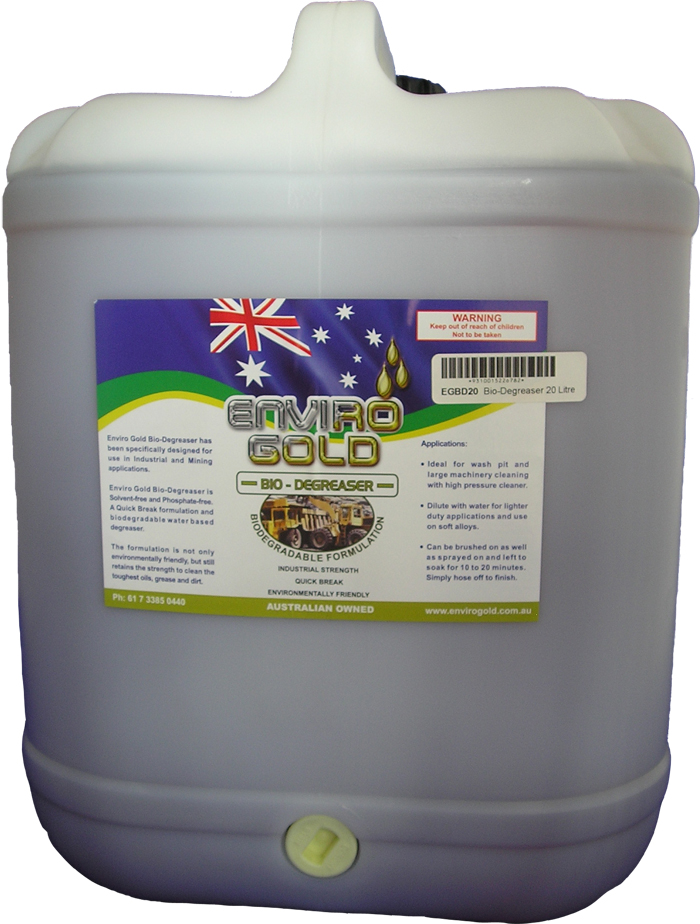 Enviro Gold Bio-degreaser can be used neat or can be diluted with water to suit. It is ideally suited to wash pit, mining and industrial applications where baked-on diesel oil and grease are prevalent.
Its quick-break feature ensures emulsified grease and oil rapidly separate in a grease trap allowing the resultant water layer (after pH post-treatment) to be disposed of as treated trade waste.
Examples of uses
Mining – cleaning of heavy equipment using pressure cleaners over wash pits
Automotive – Engine degreasing
Industrial – floors, concrete, equipment
Civil contractors – cleaning earthmoving equipment
Benefits & advantages
Quick breaking property ideal for wash pit applications
Surfactant ingredients in Enviro Gold Bio-Degreaser exhibit low aquatic toxicity
Biodegradable
Solvent-free
Non-flammable and non-combustible
Non-regulated for storage and transport
Able to be diluted in water if required for lighter applications
Environmentally friendly
Low foaming with the equal strength of solvent based products.
Product range:
| Part number | Description |
| --- | --- |
| EGBD20 | 20 litre drum Enviro Gold Bio-Degreaser |
| EGBD200 | 200 litre drum Enviro Gold Bio-Degreaser |
| EGBD1000 | 1000 litre Palecon Enviro Gold Bio-Degreaser |
Safety Data Sheet