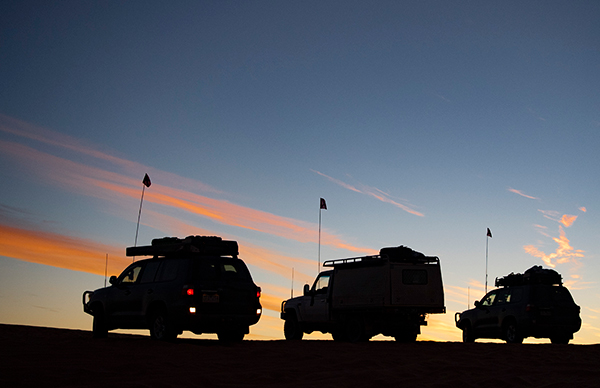 Improve your visibility with DSA Vehicle Safety Flags
Our vehicle safety flags, also called buggy whips, are Australian made to last in our harsh environment.
Different mine sites and civil contractor sites have their own safety regulations and height requirements for vehicle visibility and safety depending on the machinery and landscape. Safety flags with pole joiners are ideal when off-road 4wd in desert parks and sand dunes. When not in use, they can be separated to a shorter length and easily stored.
We have a range of off-the-shelf sizes from 1 metre to 3.5 metres in both fixed and quick release bases.
Buggy whips can also come with pole joiners to be able to fold them down for easy storage.
UV resistant materials
Gold zinc electroplated heavy duty bases
Pole joiners designed with thread connection to reduce seizing
Quality durable Hi-vis coloured flags
Fixed or quick release base options
Off the shelf sizes range from 1m to 3.5m
90° turn lock on quick release bases for added safety
Flag bushes secure the flag but allow it to freely rotate
Solid fibreglass rod
Custom building available
Manufactured in Brisbane by us, Direct Source Australia
Contact us to order your Vehicle safety flag or for more information.
Fixed base DSA Vehicle Safety Flags
| Part number | Description | Flag total height |
| --- | --- | --- |
| SF1.0FB | Safety flag with fixed base | 1.0 metre |
| SF1.5FB | Safety flag with fixed base | 1.5 metre |
| SF2.0FB | Safety flag with fixed base | 2.0 metre |
| SF2.4FB | Safety flag with fixed base | 2.4 metre |
| SF3.0FB | Safety flag with fixed base | 3.0 metre |
| SF3.5FB | Safety flag with fixed base | 3.5 metre |
| SF2.0FBPJ | Safety flag with fixed base and pole joiner | 2.0 metre |
| SF2.4FBPJ | Safety flag with fixed base and pole joiner | 2.4 metre |
| SF3.0FBPJ | Safety flag with fixed base and pole joiner | 3.0 metre |
| SF3.5FBPJ | Safety flag with fixed base and pole joiner | 3.5 metre |
Quick release standard builds
| Part number | Description | Flag total height |
| --- | --- | --- |
| SF1.0QR | Safety flag with quick release base | 1.0 metre |
| SF1.5QR | Safety flag with quick release base | 1.5 metre |
| SF2.0QR | Safety flag with quick release base | 2.0 metre |
| SF2.4QR | Safety flag with quick release base | 2.4 metre |
| SF3.0QR | Safety flag with quick release base | 3.0 metre |
| SF3.5QR | Safety flag with quick release base | 3.5 metre |
| SF2.0QRPJ | Safety flag with quick release base and pole joiner | 2.0 metre |
| SF2.4QRPJ | Safety flag with quick release base and pole joiner | 2.4 metre |
| SF3.0QRPJ | Safety flag with quick release base and pole joiner | 3.0 metre |
| SF3.5QRPJ | Safety flag with quick release base and pole joiner | 3.5 metre |